FOR ME, THIS 40 YEAR OLD BOOK STARTED IT ALL. IT BEGAN MY STUDY AND PRACTICE OF LIFE COACHING SKILLS.
"HELP THY NEIGHBOR– How Counseling Works, and When it Doesn't" – By Linda Weigarten Scheffler 1984, 245 pages. Grove Press. New York, NY. (NOTE: "Lay Counseling" = Peer Counseling = Life Coaching)
Is this book OUT OF PRINT? – Rich Dallas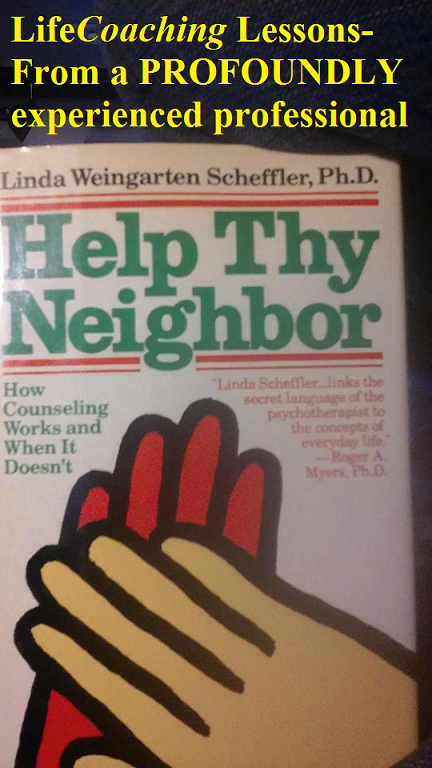 This is a textbook for the "Lay-Counselor" A.K.A. "Peer Counselor". Today we would call them a "LIFE COACH". It is written from a secular perspective. I read about 2 books a month; (ALL non-fiction). Most of the time, from a book of about 12 chapters, I will read about 7-8 chapters and skim the rest. >Table of Contents< but, this one…:
This book, by Scheffler, published in 1984, is one the best books I have ever read on the subject of Peer-Counseling, and is the first book in a decade, that I have felt the need to read every single word… 3 TIMES!
This was the very first book I read, years ago, on counseling. It was the book that started me on the journey of becoming a Certified Life Coach. As of this writing, I have accumulated 650 clock hours of (both attendance based and online) training & education. Before this book, I never gave any thought to the idea of being a "Professional Helper". (It's THAT good)
It covers Counseling Skills for the Lay Counselor. It is loaded with solid, sound, and Wise teaching on how to develop & handle the Counseling/Life Coaching relationship; not to mention the entire Counseling/Life Coaching process. Author, Linda Scheffler is a PROFOUNDLY EXPERIENCED COUNSELING PROFESSIONAL.
THIS BOOK IS BASED ON A MASTER'S DEGREE PROGRAM IN COUNSELING- (From the introduction:)
"The plan and objectives of this book reflect the Philosophy and teaching method of a graduate Master's Program in College Counseling and student development…at Hunter College of the City University of New York"… Those accepted to the program learn counseling by performing helping functions immediately…They learn by doing. NOTE: Students do have the advantage of professional training and supervision, while they do their student counseling … but THEY LEARN BY DOING! The implication is that it is by practice that you get permanently better at the Counseling/Life Coaching function.
"I HAVE READ THIS BOOK THREE TIMES!" -Rich Dallas
Years ago, I was a Christian Music Minister with a Church in Madison Heights, Michigan. As a Christian, if you profess Jesus Christ as Savior, your duties include acting as a:
Discipler-Teaching the fundamentals of the faith; but you are more than just a "Sunday School Teacher". Making disciples involves an long term, one-on-one commitment by both parties. Disciple (Christianity) – Wikipedia: "…A disciple in the ancient biblical world actively imitated both the life and teaching of the master.[1] It was a deliberate apprenticeship which made the fully formed disciple a living copy of the master."
Mentor-Setting the example of Christ-Like thinking, decision-making and action, in a wide variety of situations.
>An Encourager<"10 ways to be an Encourager" -providing others with a message of hope and deliverance from bondage of sin, addictions, depression, anxiety, anger, bitter emotions, discouragement and unforgiveness.
An Admonisher-being a DIRECTIVE source of instruction; teaching and warning others of potential negative consequences of their bad choices.
A Biblical Counselor-Counseling and Life Coaching according to the Biblical model laid down in God's word.
Spiritual Director-Wikipedia article
A Life Coach-Coaching others and drawing out their best efforts for change, growth and achievement. Coaching can be a one-on-one affair, or you can Coach groups or even entire organizations.
Your purpose is to help others learn to apply Biblical Wisdom to their lives and to strengthen their walk with the Lord. Again, this is a Secular book. BUT:
If you look through MY personal copy, you will find that:
I have underlined points in every chapter the 1st time in BLACK INK.
Going through it the 2nd, I underlined, and made notes in RED INK.
The 3rd time, I underlined stuff in

GREEN INK.
If you examine the framework for the Counseling Process advocated by Author Linda Scheffller, and you compare it with the Life Coaching Process advocated by >THE INTERNATIONAL COACH FEDERATION (ICF) CORE COMPETENCIES< (and to DOWNING'S "8 ESSENTIAL ELEMENTS OF COUNSELING" – below) you will find numerous parallels between all three.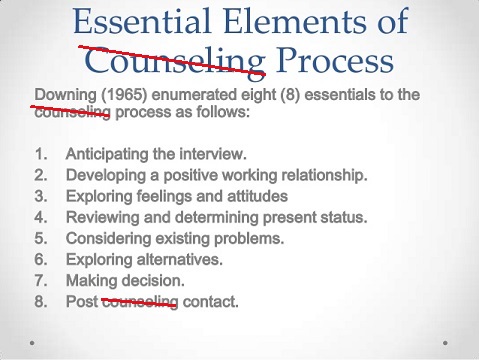 SCHEFFLER'S MODEL OF COUNSELING/LIFE COACHING From Page 167 and Page 206:
Creating Trusting Atmosphere
Getting the facts Putting Problems into manageable units
Understanding the Client and the Problems
Making a Joint Contract or Commitment A. Observation B. Listening and checking for Understanding
C. Exploring Content
D. Recognizing and Exploring Feelings
E. Facilitating Communication
F. Giving Feedback and Interpretation
G. Assessment
A close study and comparison of all three models, will reveal EYE-OPENING similarities (SO, WE HAVE THREE EXAMPLES OF "COACHING CORE COMPETENCIES: NOTHING NEW! COMBINED, WE HAVE THREE VERSIONS OF AN OUTLINE FOR THE COUNSELING/LIFE COACHING PROCESS THAT ARE VIRTUALLY IDENTICAL.)
They point to a generic process that goes right to the heart of what it means to be a "LIFE COACH"; to Disciple, Guide and "Counsel" a fellow Christian. We do this by using some powerful questions, and God's word, to share whatever "Sage Advice" we may have to help them in their walk with the risen Savior…JESUS.!
OUT OF PRINT?
This book appears to be out of print. I am considering Video recording an outline of each chapter of this book (along with my comments) and posting it on this website, as an exercise, not only to improve my own LIFE COACHING SKILLS, but to pass this stuff on as a SageCraft Life Coach Trainer.
You'll get a kick out of the classic video above. It illustrates a major point in the Life Coaching process; that the entire change process is the responsibility of the Client. Your Life Coaching skills and interventions are merely guideposts.