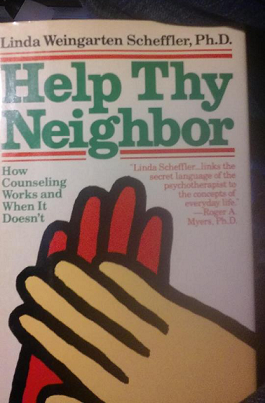 THIS BOOK WAS A CATALYST FOR ME BECOMING A CERTIFIED LIFE COACH. IT DISTILLS THE VERY ESSENCE OF SOUND AND POWERFUL LIFE COACHING SKILLS -Rich Dallas Certified Life Coach
…"Along with Scheffler's insights, the similarities to the Downing Model of "The 8 Elements of Counseling" (1965), and the "Core Competencies Model" of the International Coach Federation, could not be more glaring and obvious. One cannot help but notice the similarities, and the usefulness, of all 3 of these models to today's Professional Life Coach." -Rich Dallas
Inside Front Cover of this book: THE BOOK: "… helps us as laypeople, to counsel those who need our help, and prepares us for the unexpected elements that make our help different from that we give as friends, relatives, or advisors. THE AUTHOR: " … provides expert guidance for
Establishing a counseling "contract"
Delineating time limits and goals
Identifying and using the feelings of both client and counselor
Assessing and evaluating counseling progress and change
How to anticipate and avoid many of the common pitfalls such as: 1. becoming a Client's "savior" (fixing their problems FOR THEM), 2. or becoming their "pawn", (being USED by them to intervene in their affairs or manipulate you).
Scheffler further says: …"This is essential reading for those who wish to give or accept therapeutic assistance.-within professional settings, in mutual/self-help groups and peer counseling programs, or FROM ONE PERSON TO ANOTHER" – (Emphasis is mine, because that is exactly the dynamic of a Professional Life Coach who is not necessarily a licensed Psychotherapist) – Rich Dallas-Achology Certified Life Coach
"Too many for too long have struggled to create and maintain the impression that the helping process is inordinately complex, bafflingly mysterious, and ever so precious. In Help Thy Neighbor, Scheffler debunks all of this by linking the secret language of the psychotherapist to the concepts of everyday life. The result is a valuable resource for the beginning student in the helping professions and the intelligent concerned layman… (That would be…YOU?)
Scheffler conveys the views of a Wise and sophisticated Clinician and a PROFOUNDLY EXPERIENCED Therapist.